Marine Services
Mullies are experienced professionals in Diving and Marine Services
Established in 1977, Mullies Underwater Services has years of experience and is a specialist in Diving and Marine Services.
With a highly-skilled team of divers, Mullies provide a vast variety of commercial diving services and solutions. Each of our divers requires a minimum ADAS Level 2 certification with the Commercial Dive Supervisor holding the ADAS Dive Supervisor certification. Depending on the job at hand we can run four or five man dive teams including the Commercial Dive Supervisor directing the team from the surface using comms and live streaming CCTV.
Here at Mullies we have a combined total of over 25 years experience in the commercial sector and conduct intensive training with all of our divers to ensure that strict safety regulations are met according to the Australian/New Zealand Standard (AS/NZS 2299.1:2015). In accordance with this regulation, our dive supervisors are trained within the requirements of AS 2815.5 and adhere to all competencies including managing risk associated with dive operations, monitoring and implementing OH&S programs and first aid management of all dive related emergencies.
We have a friendly and professional team bringing a high standard of work, safety and efficiency to each job.
Commercial Diving Services Include:
Class Surveys and Inspections
Shipping
Wharf Maintenance – Steel, concrete and timber
Hull Cleaning
Propeller Polishing
Blanking
Anode Replacements
Subsea welding
Subsea Drilling
Hull Repairs
Jetty Repairs and Maintenance
Vessel Salvage
Welding Repairs
Underwater Thermal Lancing
NDT Non-Destructive Testing
Hydraulic Tooling (drilling, grinding, cutting and chainsaw)
Installation and maintenance of Navigational Aids
Jetty Inspections — Maintenance & Repair
Installation & Restoration
Established in 1977 Mullies Underwater Services has years of experience and is a specialist in Diving and Marine services.  We have the capacity to undertake installation, maintenance and restored of all marine structures and the ability to work with any construction materials including timber, aluminium, steel, poly and composite.  We have been committed to developing our staff to ensure that the specialist skills required in installation, maintenance and restorations are retained for the long term.  This has resulted in a multiskilled motivated team able to undertake a broad range of tasks.
Our team of qualified professionals are accustomed to working in the public arena and will always work towards an efficient and timely outcome whilst maintaining a high focus on safety and the environment.  Our vessels, machinery and equipment are of the highest quality and are meticulously maintained ensuring a smooth project.
Cleaning & Maintenance
Using specialised equipment and highly trained divers, we are able to undertake cleaning of Jetties in order to remove any marine growth for a more accurate inspection of any marine structure. We can undertake very detailed underwater and topside inspections providing a comprehensive report including images and recommendations on repair if necessary.
Our cleaning services also provide a safer environment for private Jetties along the Peninsula. By removing excess marine growth we can reduce the number of dangerous marine life living under the structure like the Blue Ringed Octopus. This in turn provides a safer environment for private jetty users to swim and use the jetty.
Our skilled team can also provide any ongoing maintenance, repairs or extensions on all marine structures.
We pride ourselves in high quality craftsmanship and ensure you get the very best service and advice.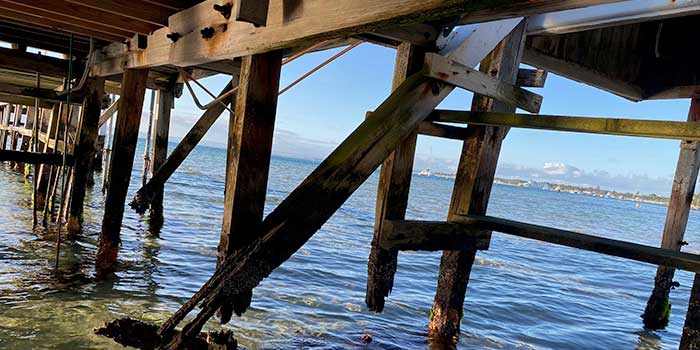 Contact Mullies Underwater Services today. With extensive experience and a professional approach you'll find our work is of the highest standard.